This time last year we were attending Emily's last class with Kindermusik.  She loved it!  She learned a lot about music and now she is a music lover.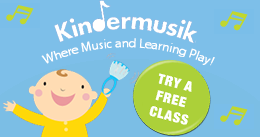 The Kindermusik program uses high-quality recordings, instruments and literature books along with traditional nursery rhymes and songs to build a strong foundation of cognitive, emotional, social, physical and language development.
If you ever get a chance for your kids to attend a Kindermusik class I highly recommend it. They have FREE classes for kids age infant to 7 years old.
To see if there is a Kindermusik class available in your area, simply go here.  Then enter your zip code, click submit and then enter your info.  A rep will contact you shortly thereafter to set up your FREE class.
I hope your little one has a blast like Emily did.